Go Ape Sundown Sessions (after dark) for 6yrs+
Are you ready to take on Go Ape as the sun goes down? With neon lighting, these sense-heightening experiences add a new level of thrill to your outdoor activity. After all, everybody knows that when the sun goes down, the real fun begins.Find out More
Go Ape Adventure and Go Ape Challenge
There are 2 courses 1 for those over 1metre (Perfect for children under 10yrs and their grown ups) with challenges and zip lines to enjoy. For those over 10yrs there is the Tree top Challenge, which pushes you a little bit further out of your comfort zone. Love zip lines? Then you will love the Challenge course, which has multiple zip lines to enjoy! with the longest one you'll launch yourself over the meadow, go through a tree tunnel before safely landing back down to earth by our cabin..
Find out More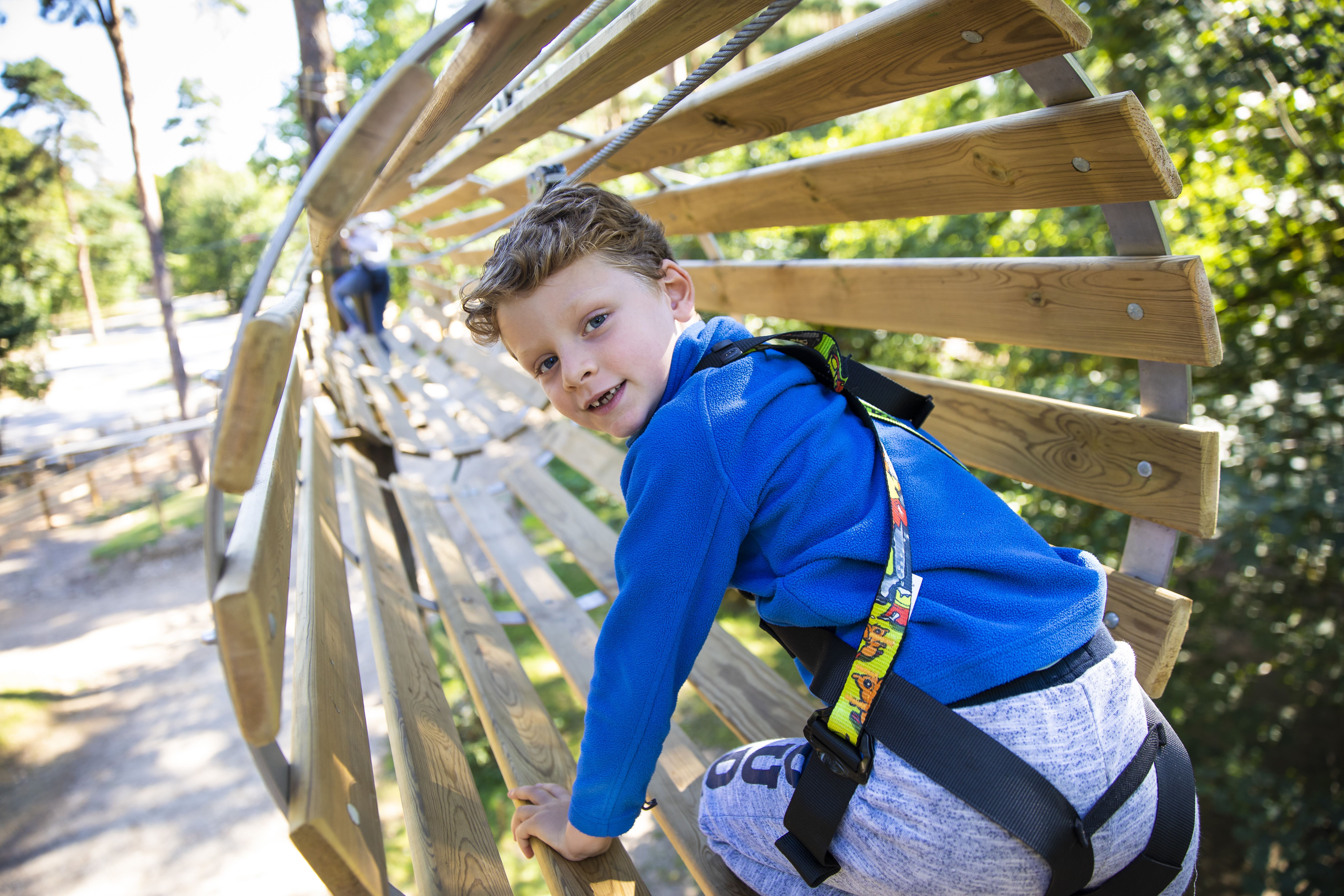 Adventures have Returned! We're Ready for You!
We've all missed the space of the forests. We've missed the call of the wild and our woodland workouts. And we've missed you - our fun-loving, natural adventure-seeking supporters.
Parks and forests are now open and soon Go Ape will be too.
Our target date for opening in England is Saturday 4th July. We will let you know when bookings go live next week. You'll notice some changes we have made to keep everyone healthy.
Watch the video below to find out more! Please also sign up for Go Ape updates as we move closer to opening our forest doors again.
Taking it one step beyond, this course caters for those who want to advance to trickier challenges without leaving the novice adventurers behind. Ease yourself in on the merciful Tibetan Bridge, but once you've found your tree-top stride you'll soon be bounding across the Monkey Puzzle and tackling the climbing wall with gusto. Challenge yourself as you navigate across the perilous crossings – there's a massive 41 to master. Love zips? This one's a treat – you'll launch yourself over the meadow, go through a tree tunnel before safely landing back down to earth by our cabin.

16+ regular price: £33
Under 15 regular price: £25
We love packing these and hunting for all the things on the cards. The children have little bags for collecting the items. These are great for allowing the kids to easily see what they have collected so far.
Other activities ideas
The open areas lend themselves to a bit of bird watching. This kit contains everything you need to take your family bird watching, including bird identifcation cards and binoculars.
There are also some lovely nature trails. Allowing your little ones to go bug hunting under logs and in the leaves.
Something for Everyone. Tree Top Junior at Alice Holt.
One of the best days out in Surrey, there's something for the whole family at Alice Holt Forest, near Farnham. Whether you're wanting to 'monkey around' in cool adventure playgrounds, ride through the forest on the great bike trails or enjoy our 'classic' Tree Top Adventure, you'll have a wonderful day out.
Alice Holt (close to Farnham and Guildford) is home to our original Go Ape Tree Top Adventure. We'll brief you for safety before you fly down our zip-wires, leap off our Tarzan Swing and tackle our obstacles whilst enjoying some breathtaking scenery.
If you're looking for outdoor activities for children, then Go Ape's got the answer with Tree Top Junior. Fun filled days out of canopy exploring, trail blazing and obstacles for all to enjoy. You'll negotiate crossings and finish on a high (literally) with an awesome zip wire.
You will be just an arrows flight from where the opening scenes of the Gladiator were filmed.